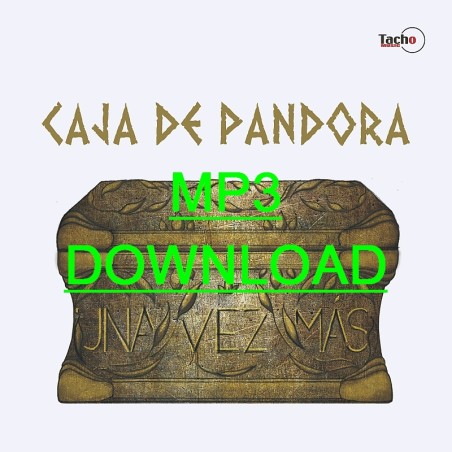  
UNA VEZ MÁS_CAJA DE PANDORA OF JOSÉ TERÁN - - 22 Track MP3
The long-awaited sensational DOUBLE CD COME BACK ALBUM (with 22 tracks) of the Mexican star rock group CAJA DE PANDORA by José Terán has finally been released digitally. The band, who played big concerts in Mexico, the USA and Japan in the 1980s, still have a large fan base worldwide today. Especially in Mexico, the band's musicians still enjoy cult status today. The album includes a CD with 10 songs sung in English and an instrumental track and another CD with songs sung in Spanish and an instrumental track. The physical album will be released in autumn 2023.
Videos on YouTube:
Total time: CD01 42'29''  CD02 47'48'' / EAN:  9006639123210 / ISBN: 978-3-902750-81-5
Das lange erwartete sensationelle DOPPEL-CD-COME BACK ALBUM (with 22 tracks) der mexikanischen Star-Rock-Group CAJA DE PANDORA von José Terán ist nun endlich digital erschienen. Die Band, die in den 1980er Jahren große Konzerte in Mexico, den USA und in Japan spielten, haben heute noch weltweit ein große Fangemeinde. Besonders in Mexico genießen die die Musiker der Band heute noch Kult-Satus. Das Album beinhaltet eine CD mit 10 englisch gesungenen Titleln und einem Instrumental-Track und eine weitere CD mit spanisch gesungegen Titeln und einem Instrumental-Track. Das physische Album wird im Herbst 2023 erscheinen
"CAJA DE PANDORA" - eine mexikanische progressive Rock-Band, die Ende 1981 von JOSÉ TERÁN gegründet wurde. Die Gruppe gab ihrer Musik eine sehr persönliche Note, indem sie ihre eigenen musikalischen Einflüsse aus Jazz, Rock und klassischer Musik, in ihre Songs einfließen ließen. Mit diesem musikalischen Konzept und der Virtuosität der Bandmitglider wurde die Gruppe rasch zu einem international bekannrten Act. Die Band tourte in den 80er-Jahren äußerst erfolgreich durch Mexico, USA und Japan. Ihr damals erstes, und einziges, Album "CAJA DE PANDORA" hat heute absoluten Sammler-Status. Noch erhältliche Alben werden seit Jahren für extrem hohe Sammlerpreise im Internet angeboten. Auf Initiative von José Terán (Gitarre), dem Boss der Formation, entstand nun nach über 35 Jahren ein neu produziertes Revival-Doppel-Album "UNA VEZ MÁS" (was soviel wie NOCH EINMAL bedeutet). Die 22 Tracks dieses Rock-Comeback-Doppel-Albums, mit englisch- und spanisch-sprachigen Titeln, schließt in seiner Ausdruckskraft und musikalischen Frische nahtlos an das damals veröffentlichte Album an. Damit hat dieses Rock-Juwel wieder großes Potential, zu einem echten Sammlerobjekt zu werden. Wir freuen uns bei Polyglobe Music, dieses sensationelle Comeback-Album veröffentlichen zu können.
Total time: CD01 42'29''  CD02 47'48'' / EAN:  9006639123210 / ISBN: 978-3-902750-81-5