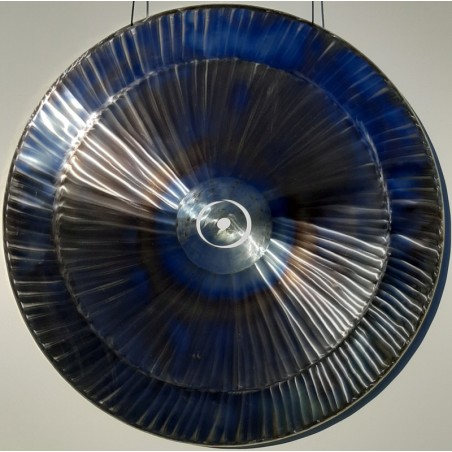  
UNIVERSE GONG
The image of this gong is an example of the huge selection of different Univers gong sizes and gong designs.
Order UNIVERSE GONGS directly from the producer www.universegong.com/en/ (see also item description)
WE PROMISED YOU A GONG SURPRISE - NOW IT'S HERE!
THERE ARE WONDERFUL GOOD GONGS NEWS!

We are particularly pleased to be able to present to you the development of a NEW GENERATION of gongs in close cooperation with our long-standing ACAMA® partner in Portugal.
After a long research and development phase, the new UNIVERSE GONGS® are now available. UNIVERSE GONGS® are expressly recommended by the sound musician and developer of the ACAMA® therapy singing bowls and by Polyglobe Music Austria.

Each UNIVERSE GONG® is a handcrafted, unique piece made in Europe and is a powerful, sonorous, unique piece.
NEW sensational & unique sound
NEW unique design of each gong
NEW supreme, manual blacksmithing
NEW Custom Planet Moods
NEW the cheapest possible pricing for our customers through a new cost-saving, direct sales channel.

In order to keep the prices for these professional sound instruments as fair as possible for customers, these new gongs can be obtained directly from the manufacturer without intermediaries. (also for resellers)
You can contact the manufacturer and our cooperation partner in Portugal directly via their website and by e-mail. Communication takes place in English (or Portuguese).

With UNIVERSE GONGS® and ACAMA® Soundinstruments we wish you alot of good time in your lifetime
With warm Regards from Polyglobe Music Austria!