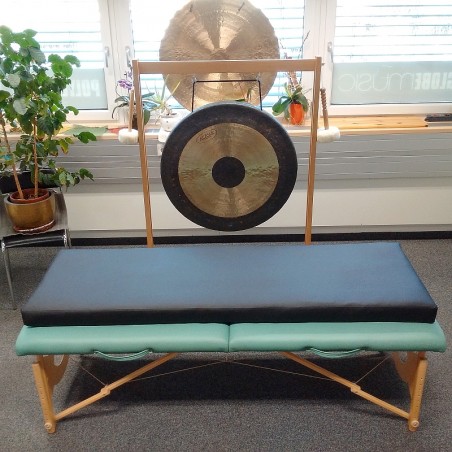  
THE WELLNESS SOUNDMAT - WKM12
NEW! THE WELLNESS SOUNDMAT is a new and innovative sound product for a new and grear sound-feeling.  "Imagine your laying in a giant-singing bowl and you feel the relaxing vibrations inside your whole body!" SINGING BOWLS & GONGS - MUSIC FOR RELAXATION & MEDITATION TO ENJOY THE WORLD OF VIBRATING SOUNDS AT THE BODY !  Flyer download
NEW! THE WELLNESS SOUNDMAT is a new and innovative sound product for a new and grear sound-feeling. "Imagine your laying in a giant-singing bowl and you feel the relaxing vibrations inside your whole body!" Flyer download

SINGING BOWLS & GONGS - MUSIC FOR RELAXATION & MEDITATION TO ENJOY THE WORLD OF VIBRATING SOUNDS AT THE BODY !
Particular developed sounds & music are played from CD or transferred by BlueTooth into the THE WELLNESS SOUNDMAT
The new wellness soundmat is very versatile in sound treatments, in the private well beeing-sector, as well in therapy applications in general, in hotels, well beeing areas, to relax and to feel well, easily applicable to use.
It offers an excellent sound complement for sound massage with singing bowls and gongs. It is also suitable as an accompanying "sound carpet" during therapeutic treatments, or as a harmonious stand-alone offer in wellness-areas of hotels, etc. for well-beeing, meditation and relaxing.
The gentle sound vibrations spreads throughout the body area and provides a relaxed feeling in the body. This kind of sound-consumption on the wellness sound mat is also ideally suited as preparation for therapeutic measures.
By a control unit the WELLNESS SOUNDMAT is supplied with the desired music and sounds. With a CD player, a mobile phone (via BlueTooth), or a stereo system, you can play your favorite music via the control unit and enjoy the sound of the special body-sound-transmitters wich are build in the sound mat. You can enjoy the sound of the mat lying on your back, or on your body frontside.
Additional to the body-sound, you can enjoy the sounds of your music as well by headphones connected at your prefered player. As well very useful by listening to guided meditations with music.
For transportation the soundmat can be rolled up. The mats surface of imitation leather is washable. Polygobe Music offers special CDs with suitable music programs for the best use of the WELLNESS SOUNDMAT. eg: singing-bowl music, gong music, meditation and relaxation music specially adapted to the sound frequencies, or guided language meditations on different topics.
Through this new WELLNESS SOUNDMAT, musicial experience gets transformed into sensible vibrations, which cause the body's water balance to gently vibrations, ensuring comfort and relaxation. This easy to handle soundmat can be used for ejoying sound-massage without another person, or in combination with other treatment methodes. Special produced CDs from the SONIC THERAPY MUSIC series are available
The WELLNESS SOUNDMAT is ready for testing in our showroom. We will be pleased to advice you.
(Articel contains: 1 pc wellness-soundmate, 1 pc. controlpannel, 1 pc. AC/DC unit for controlpannel, 1 pc. cable to mate. Remark: all other items shown on the photo, like gongs, singingbowl, bed, decoration eg. are not included in article price.)
The wellness sound mat is exclusively made to order. When ordering online in the shop, select the wellness mat in the shopping basket, pay the purchase price and the production starts for of your personal mat. After 3-4 weeks (working days) you will receive an e-mail message that your mat is ready. Either you pick up your wellness sound mat from us or it will be sent to you.