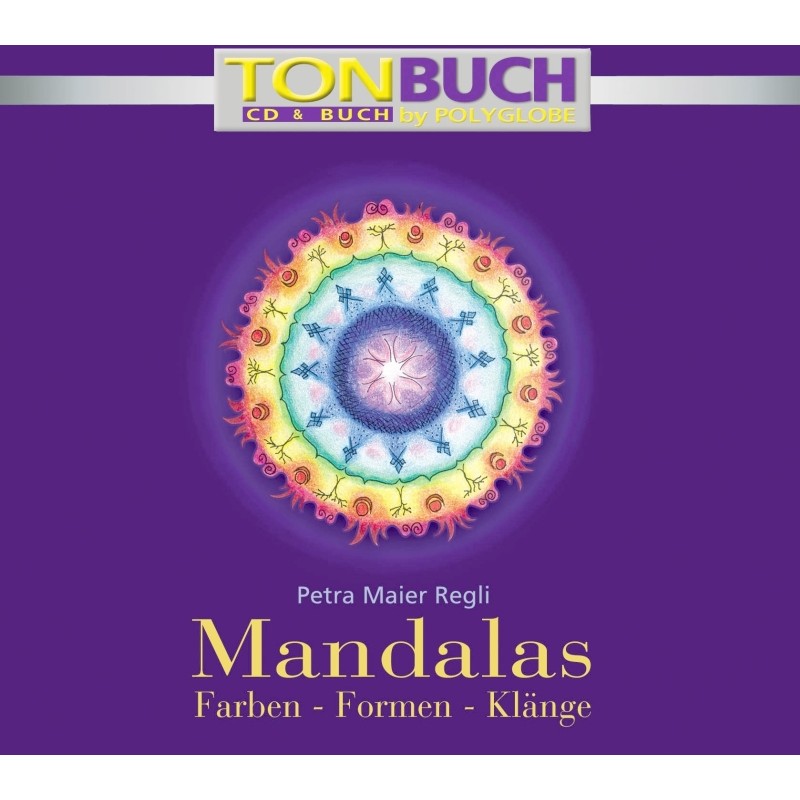  
MAIER PETRA - Mandalas "Farben - Formen - Klaenge" - CD & paper bach, poster, copy sheetsaschenbuch
Interactive project in German about the intuitive use of colours and forms inspired by energetic music.
Pricecode 518 / Total time: 66 min / Taschenbuch 76 Seiten / EAN: 9006639503197 / ISBN: 978-3-900006-00-6
Interactive tonebook project (small book and CD) in German about the intuitive use of colours and forms inspired by energetic music.
TONBUCH - CD, Buch, Poster, Malblock mit Malvorlagen.
Inhalt CD: Auf der CD finden sich Musikstücke, deren musikalische Schwingungen den Chakren (Energiezentren) zugeordnet sind. Diese Musikstücke dienen als Untermalung und als meditative Hilfe beim intuitiven Malen des persönlichen Mandalas. Die Musik eignet sich auch sehr gut als Begleitung zu einer Chakren-Meditation. Inhalt Taschenbuch: (72 Seiten): Im farbigen Taschenbuch findet sich eine komplette Anleitung zum selbständigen Erstellen eines persönlichen Mandalas. Die Zuordnung von Formen, Farben und Tönen hat in diesem Zusammenhang eine zentrale Bedeutung, die ausführlich erklärt und beschrieben wird. Nachdem Sie Ihr persönliches Mandala entwickelt haben gibt die Autorin umfangreiche Vorschläge, wie Sie mit Ihrem persönlichen Mandala sinnvoll meditieren können und wie Sie diese Meditationen gestalten können.
Poster: Auf dem entfaltbaren Farbposter finden Sie alle wichtigen Farbtafeln und Angaben auf einen Blick. Ideal zum Aufpinnen.
Malblock mit Malvorlagen Dem Tonbuch liegt ein Malblock bei, auf dem alle im Buch enthaltenen Mandala-Vorlagen mehrfach zum Ausmalen enthalten sind.
Ein POLYGLOBE-TONBUCH für eine sinnvolle Beschäftigung im ganzheitlichen Sinn, für Erwachsene, wie auch für Kinder. Ideal anwendbar zu Hause, in Seminaren, in Kindergärten und Schulen etc.- pädagogisch sehr wertvoll (ab 5 Jahre).
Pricecode 518 / Total time: 66 min / Taschenbuch 76 Seiten / EAN: 9006639503197 / ISBN: 978-3-900006-00-6