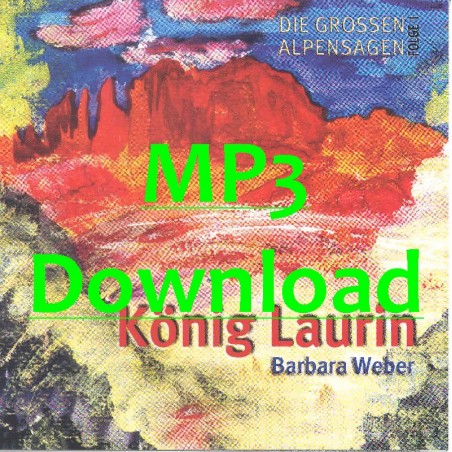  
KÖNIG LAURIN - Weber Barbara - MP3
Now available again, as MP3 download!
This production contains two of the most famous tales from the Dolomites in South Tyrol well performed by the tyrolian actress Barbara Weber. In German languange.
This production contains the two most famous Dolomite sagas from Tyrol: KING LAURIN and DER SALZZWERG brilliant tells the story of the Tyrolean folk actress Barbara Weber. When the artist and theater-maker Barbara Weber from Tyrol unpacks her staff dolls and begins to tell stories of long lost times, the audience is quickly captivated. Witches, ghosts, dwarfs, giants and other characters suddenly become alive and in the listener's imagination become real beings. Whether it is about petrified women, redeemed spirits, or terrible rulers of old times, the artist knows how to convey in her colorful language the ancient sagas enthralling and rousing. Barbara Weber has adapted the traditional folk tales of the Alps and partially supplemented missing pieces, or enriched by their own literary elements.